Landscape lighting on a budget
Posted 22 Oct 2018
Our backyard is under 1000 sq.ft but we have over 25 pine trees planted close to each other. Tree were planted by previous owners. It provides a great amount of privacy. On the flip side, summer or winter it doesn't matter, it gets dark pretty fast. We brought in landscape consultants and the quotes ranged from 4000$ to 7000$.
One thing that put my mind at ease was low voltage lighting (12v). That kick started our journey to really see where the cost was and can we do-it-ourselves with quality while being on a tight budget.
Key things :
We went with low voltage outdoor lighting using LEDs. 12v

You need to have outdoor outlets. As per latest electric code, you should have 1 outlet in the front and 1 in the back. If not, you need to create one. Check your local electric codes and when in doubt go with an electrician.

Draw a rough sketch of what you want to highlight without making it too crowded or too bright.

determines the number of fixtures
type of the light fixtures (up light, down light, path lights and so forth)
placement

Light fixtures, quality of light fixtures varies greatly. Good deal of research to find the best ones for the right price.
Things needed
GFCI outlet

Volt brass lighting Fixtures (we went with Volt Lightings because their bronze fixtures was cheaper than big box store and came with lifetime warranty) Note: the LED bulbs in volt was very very expensive, so we replaced it with better priced LED lights from amazon.

LED light bulbs Note: Key thing make sure you pick warm lights (3000K and below), cool light has bluish white light which would look abnormally bright. a. MR16 for Top Dog b. MR11 for Top Dog Mini c. G4 for china hat

Hamilton Bay 120 watt Transformer Note: Transformer from volt was bit pricey, unless you get costco volt lighting. We thought home depot ones had better price point.

PVC pipes - [Optional step] We put wires inside pvc and buried it under ground for extra protection.
Step by step instructions
Step 1:
Draw out a rough sketch of how your landscape should look post light placement
Here is my rough sketch of our backyard and my light placements
Step 2:
Determine the type of lighting needed
For e.g.
to highlight tree, use up lights
to highlight a statue or art work, down ward light works best
to light pathways, path way lights every 4 to 6 feet provides light and coverage
We decided to put top dog brass upward spot lights on the corners (4 corners), top dog mini brass for the interior trees (every 5-8 feet), 5inch china man hat as our path lights and to highlight certain landscape features like plants.
Step 3:
Type of connection between lights, there are 4 types of connection you can make
Daisy Chain
T-Method
Hub Method
Combination
You can find great deal of details about different connections below
We went with T-Method, from the transformer our connection went to a hub located in the middle of our yard. From there we had a left daisy chain and a right daisy chain connections.
Step 4:
Depending on the design and lights, calculate the transformer size.
Multiply the number of fixtures X led bulbs wattage X with 1.25 for loss in transmission for extra safety
In our case, 4 Top Dog x 5 watts + 6 top dog mini x 2 watts + 3 china hat x 3 watts = 41 watts Multiply for loss 1.25 x 41 = 52 watts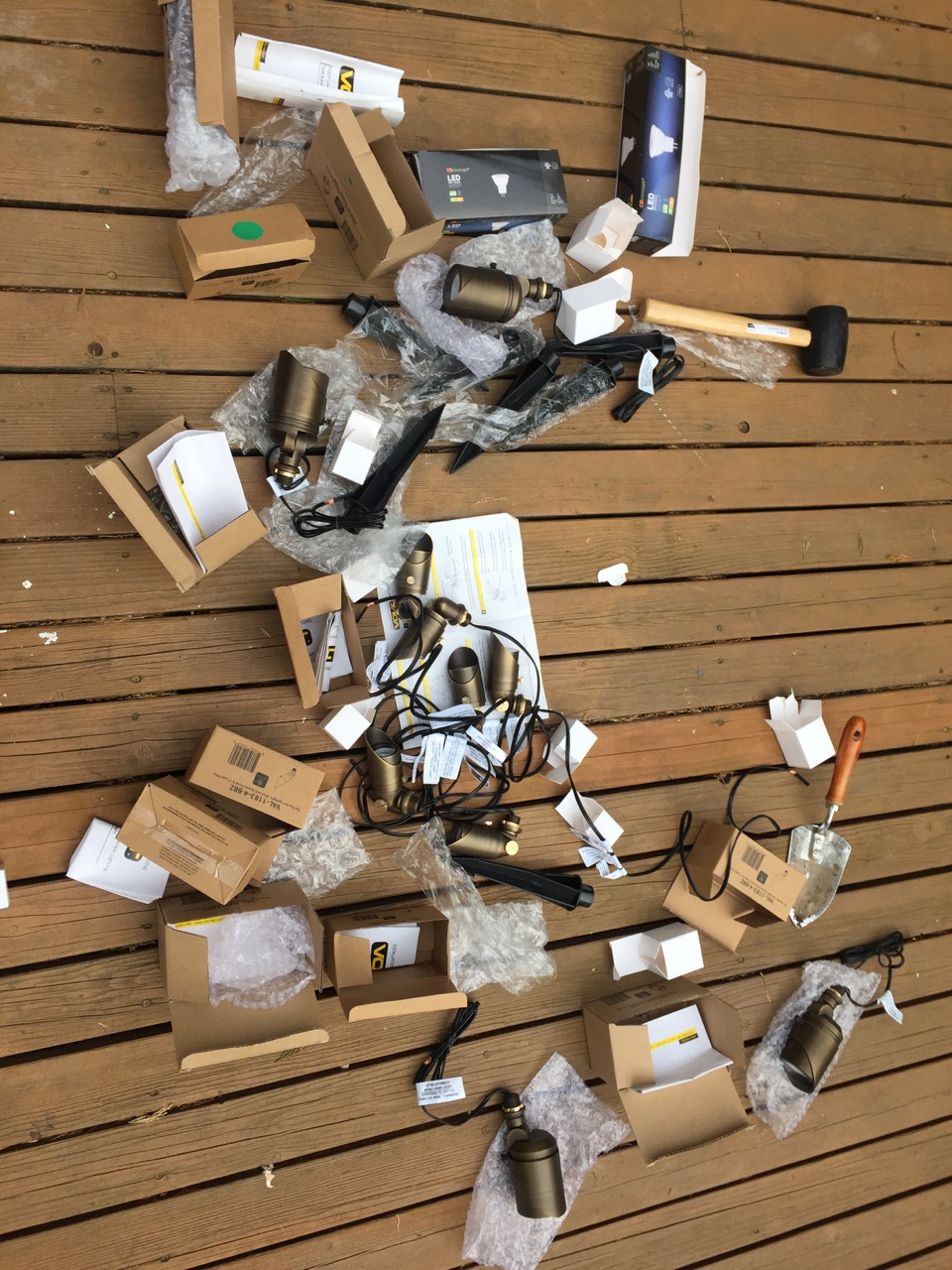 We picked 120 watt Hamilton Bay transformer from Home depot, didn't have a lot of good rating but its been almost a year and they work great.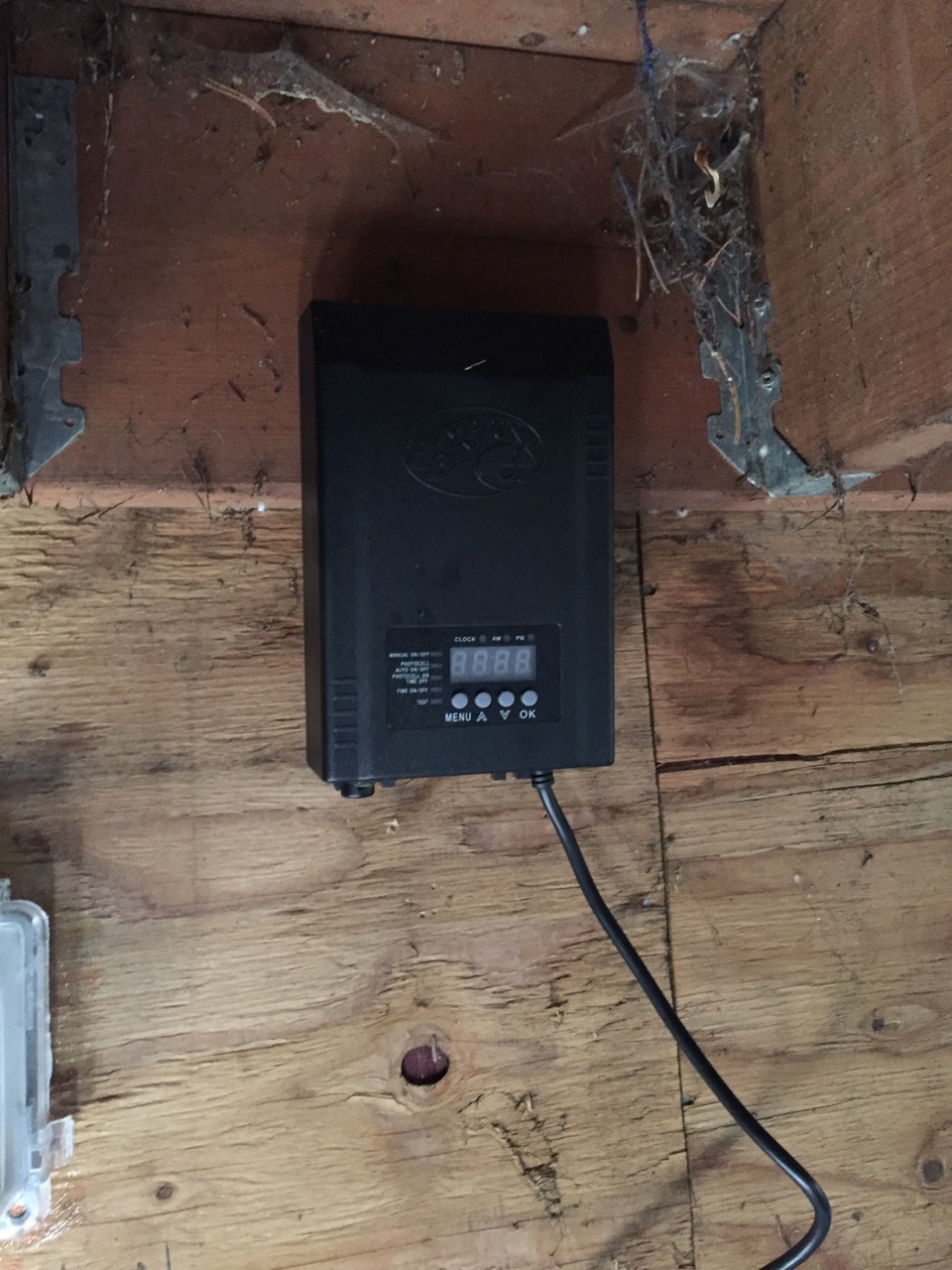 Step 5:
Based on the run, pick the
wiring
Wiring also determines the voltage drop.
Step 6:
Make sure you have GFCI outlet, if not add one.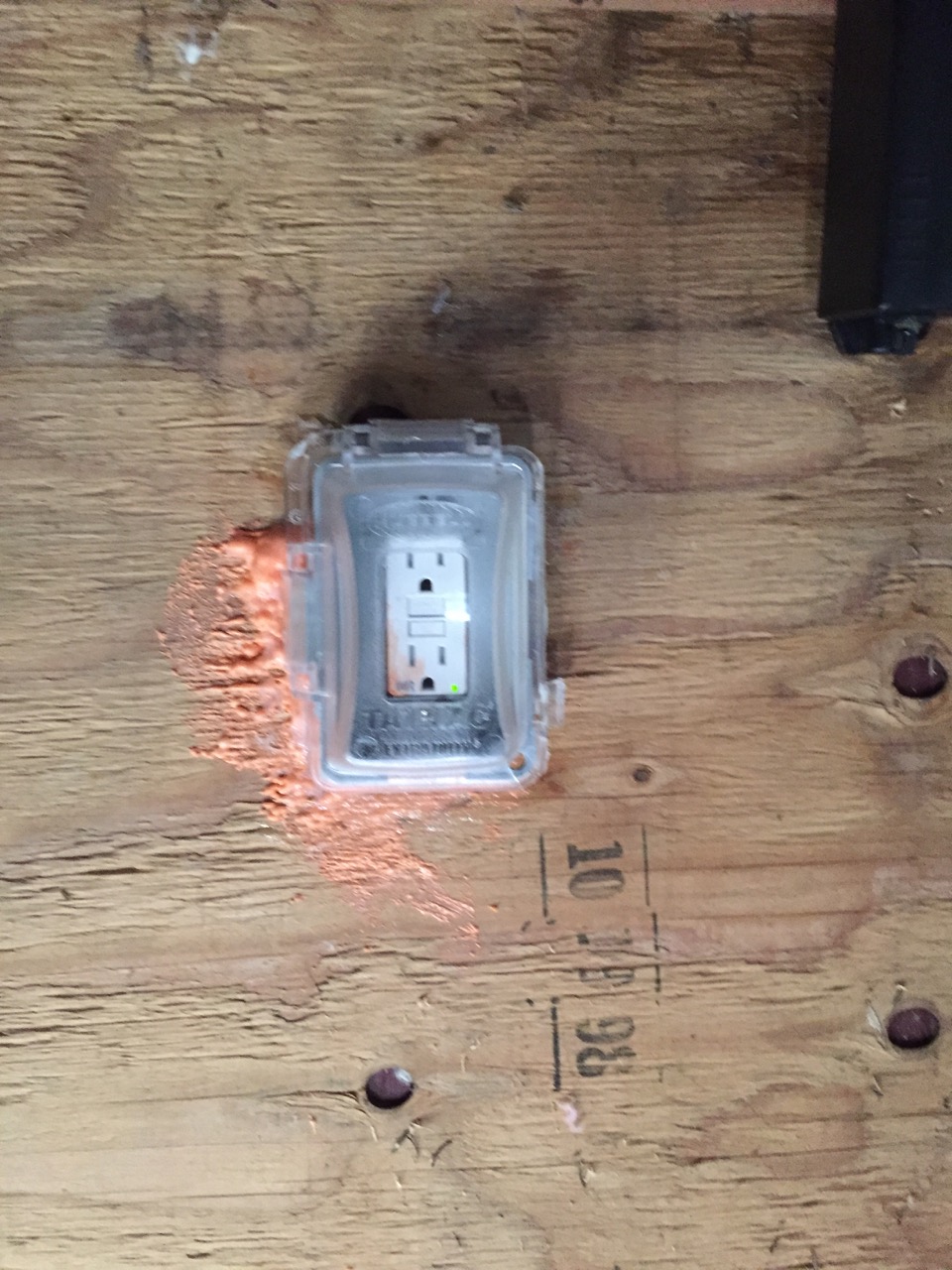 Step 7:
We set ours to turn on at dusk and then turn itself off around midnight. So we had to extend the photo cell from under our deck to where it can get to light.
We used thin cat 6 cable wire to extend the photo volt cell.
Step 8:
We ran the cable from transformer to the Volt pro junction Hub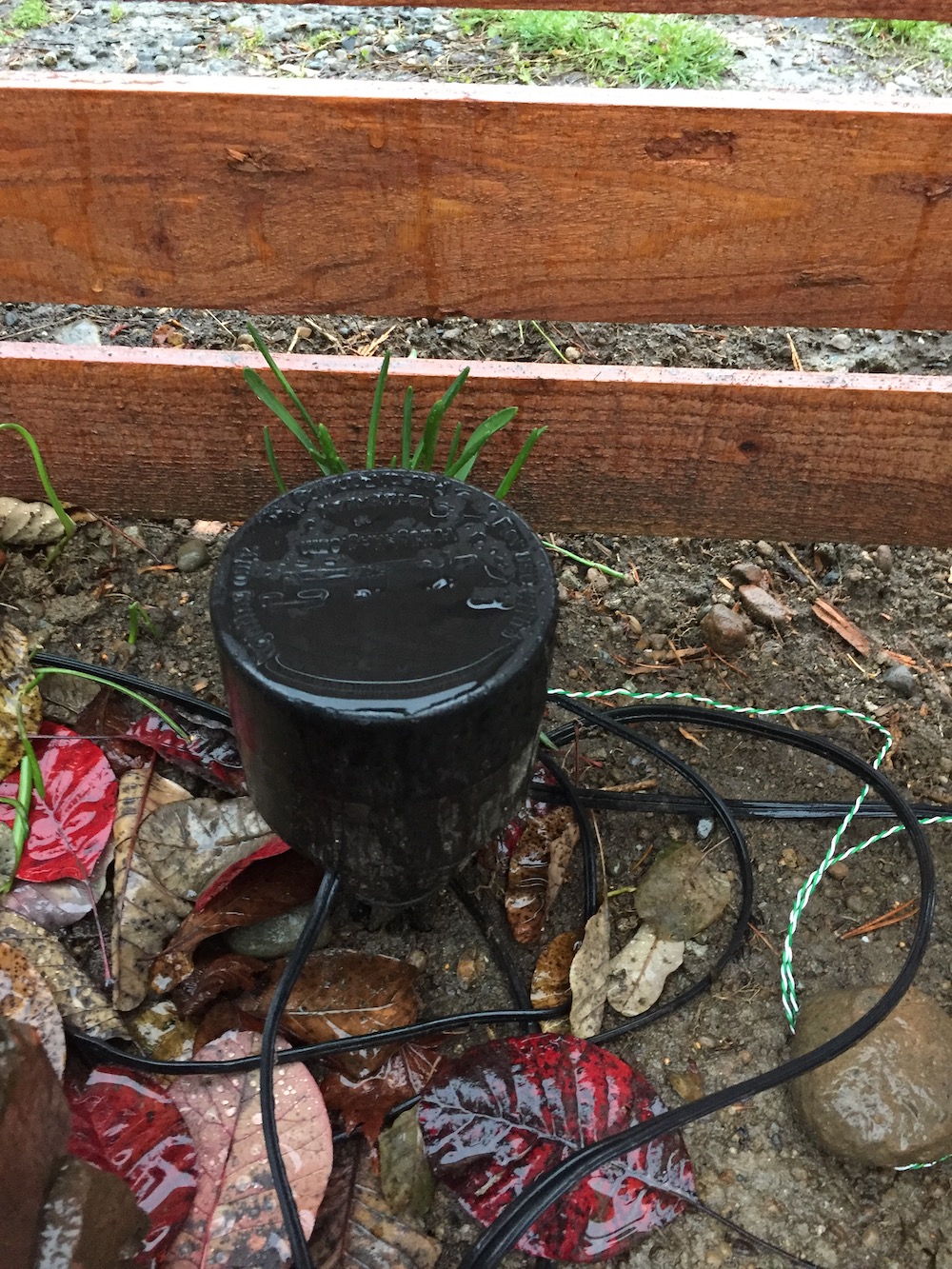 Step 9:
Then built daisy chain network to left and right. Connecting the wires using 2 direct burial junction connectors.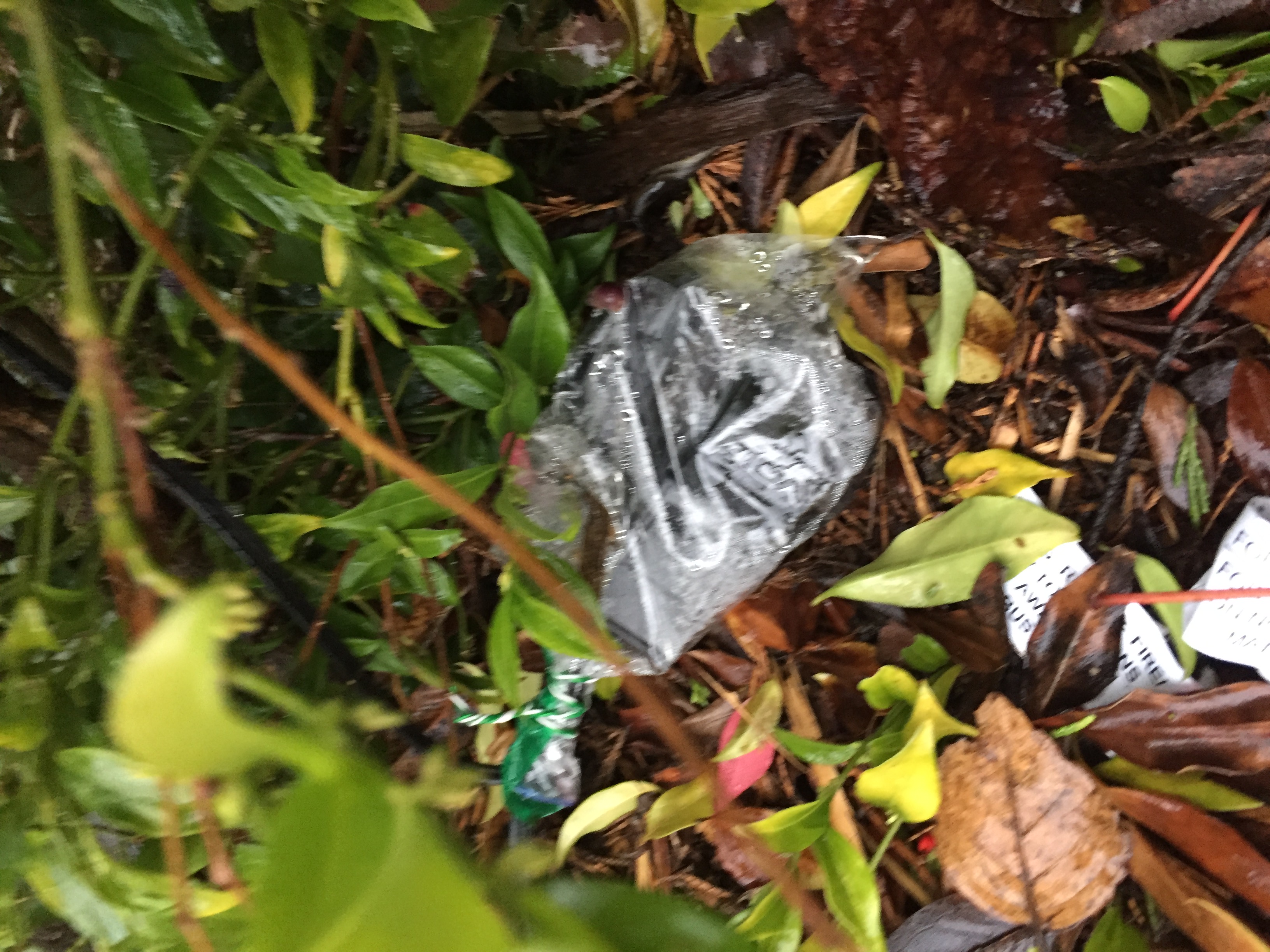 Step 10:
Voila